---
BUSAN, South Korea — Terrence Malick's 'The Tree of Life' is a masterpiece, pure and simple. Strong opening words, I realize, but true nonetheless. Before we go any further with the praise, though, I feel it would be a gross misuse of my duties as a critic if I were to try and recommend 'The Tree of Life' to just anyone.
This isn't a piece of entertainment, not by any stretch of the concept. Malick has provided us with a deep, meditative examination of life; one which challenges us to embark on an emotional and spiritual journey that is all-encompassing. We are tasked with having to feel our way through the images and themes, as Malick feeds us the bare minimum of narrative structure, always asking us to ponder his symbolic gestures. This is an extremely difficult film to approach, polarizing to be sure, but one that will most certainly yield many rewards to those who give themselves over to the experience.
'The Tree of Life' is, most unconventionally, a story about a family. There is no linear chronology, no lengthy exchanges of dialogue, and no right way to interpret the narrative. It falls along an emotional path, and because the emotions that we are prompted to feel come seemingly at random, so do the images and scenes themselves. The narrative whispers quiet refrains, often with few words, usually offering spiritual insights. The images themselves are a celebration of creation; the creation of all things, not the least of which is life and love, followed by the end of all things. This theme evokes scenes of, quite literally, the creation of life in our galaxy, and on our planet. These will no doubt be some major head-scratching moments for many, but for those who stay the course, they will find that it adds to the poignancy of the moments that are focused on the family.
---
---
The cinematography is never anything less than astonishing; there is never a shot where the lens isn't providing an image of fascinating wonder. Malick conducts his cameras as a composer would an orchestra, gracefully sweeping us from one seemingly random moment in time to the next. Where the film could have dragged relentlessly, the enigmatic vibrancy of life unfolding before our very eyes helps the pacing along with ease.
Some of the most powerful moments in the film come from the joyous occasion of a child's birth, followed by the turbulence of adolescence, compounded by a father's inability to maintain a balance between stringent communication and tender acts of affection. One abrasively strict moment is almost always followed by genuinely affectionate embraces.
It doesn't matter much that Brad Pitt stars as the misguided and impatient father. He blends in seamlessly with Malick's intentions, there is no "star power" here. Sean Penn is able to accomplish a similar feat, often observing solemn moments of reflection on the family life that has passed. The faults are few, but obviously come in the form of Malick's occasional overindulgence, particularly in the end where he misses several opportune moments to bring the film to a satisfying close. Some scenes revel far too much in his symbolic use of hands and feet, and there are times when it feels as though he's really hammering his audience over the head with his meaning.
To divulge anything more would be to strip the film of its power. My whole intention, here, is merely to guide you in deciding whether or not you think the film is for you. If it doesn't sound at all like your cup of tea, then by all means skip it. However, if you have even the slightest interest in what 'The Tree of Life' might be like, then I strongly recommend you give it a chance. It's an experience, a rare film that challenges you to feel more than think, and lovingly rewards those who open their minds to something that is not merely a film, but a true work of art.
---
Showtimes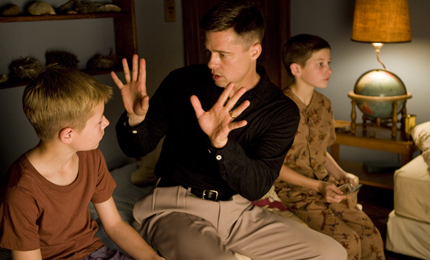 The Tree of Life
(United States, 2011)
Directed by Terrence Malick
138 minutes
"Tree of Life" is due for release in Korean theaters later this month.
Comments
comments