---
BUSAN, South Korea — A fellow cinephile and film columnist, Jacob Worrel, has put together a fantastic preview of this year's Busan International Film Festival. At this point, I feel hard pressed to follow it. Not only has he highlighted some of the films that were already on my radar, he's actually schooled me on a few of the selections to which I gave a passing thought, but ultimately turned down in favor of other (and less promising) films.
While films such as Terrence Malick's The Tree of Life, Lars von Trier's Melancholia, and Kim Ki-Duk's Amen were excitingly obvious choices for me, it was Jacob's mention of We Need to Talk About Kevin by director Lynne Ramsay, along with Jean-Pierre & Luc Dardenne's The Kid with a Bike that swayed me into placing them on my schedule.
Not only did Jacob's preview draw my attention back to the latter two (potential) gems, it yielded more research which ended up with me watching two trailers with my jaw becoming a permanent floor fixture. We Need to Talk about Kevin has risen to the top of my most anticipated films of BIFF list, and The Kid with a Bike isn't far behind it. Hopefully some of you will manage to see these two at the festival this year.
We Need to Talk about Kevin
The Kid With the Bike

Thankfully, it was not necessary for me to rely solely on Mr. Worrel's preview for all of my film selections this year. Here are some of what I think you should be on the lookout for:
Hindsight (S.Korea, Directed by Lee Hyeon-seung)
It should come as no surprise to anyone who reads my column that my most anticipated Korean film of the year stars Song Kang-ho. This will be director Lee Hyeon-seung's first film in eleven years, his last directorial effort being Il Mare in 2000. That romance/fantasy hybrid was notable enough to capture Hollywood's eye, being remade in 2006 as The Lake House. With Hindsight, Lee Hyeon-seung dusts off the directors chair to explore the gangster genre with Song Kang-ho, who plays a retired mob boss who vows he is out for good, attempting to immerse himself in the culinary arts. He meets an unlikely admirer in one of his cooking classes, a young woman whom he quickly befriends. Friendship and loyalty are tested, however, when it is revealed that there is more to the girl than meets the eye.
The film was released domestically at the beginning of September, sans English subtitles. This will be a tremendous opportunity for international audiences to enjoy the latest performance from one of Korea's all-time greatest actors. Also worth noting from the trailer is the use of Song Jeong beach as a backdrop for one of the scenes in the film.
Hara-Kiri: Death of a Samurai (Japan, directed by Takashi MIIKE)
Any true fan of Japanese cinema will be able to tell you about director Takashi Miike. His are the type of films that ingrain themselves in the conscious memory of the audience, for better or worse. The controversial Japanese auteur commands a surrealistic style that is ultra-violent, bold, completely original, and sometimes, completely FUBAR. Proof can be found in Ichi the Killer, if you've got the stomach to try.
At last year's BIFF, however, I saw Takashi Miike's straight-laced remake of the 1963 samurai classic, Thirteen Assassins. I was so satisfied with Miike's samurai genre effort that I'm very excited to see what he will do with Hara-Kiri: Death of a Samurai. Even if it's more of the same, that certainly won't be a bad thing. If anything, though, secure yourself a copy of last year's Thirteen Assassins, which reinvigorates the samurai epic and is absolutely worth your time.
King of Devil's Island (Norway, directed by Marius Holst)
An immediate selling point for this film is veteran actor Stellan Skarsgard, whose prolific and eclectic career has seen him in a range of films from all over the world. From gargantuan Hollywood blockbusters, to the smaller indie gems, the man is everywhere. He's also in another popular BIFF selection, the aforementioned Melancholia. As if Skarsgard's involvement wasn't enough, the premise alone is worth the price of admission.
One Norwegian winter in the early 20th century, the brutal Bastoy Prison is home to boys who are being used as slave labor. Upon the arrival of an idealistic new inmate, an uprising begins. The film looks to examine the limits of the human condition, tested under abhorrent circumstances, blurring the lines between justice in a correctional facility, and slave labor.

The Lady (France/UK, directed by Luc Besson)
Producer/Director Luc Besson hasn't contributed much to his directing credits over the past ten years. His focus has been largely on writing and producing a plethora of over-the-top action flicks. His two most notable works, The Fifth Element and Leon: The Professional have been the only true staples in his career. The Lady looks like a promising new direction for the Parisian auteur.
The Lady is a vibrantly sweeping epic of love and turmoil set against the political backdrop of Burma's hostile regime. Starring Michelle Yeoh and David Thewlis.

Tyrannosaur (UK, directed by Paddy Considine)
Upon viewing the trailer for Paddy Considine's directorial debut, Tyrannosaur, I was immediately convinced that I had picked a winner. Scramble to get tickets for this one folks, as it could prove to be the best British film of the year. Some might remember Paddy Considine as one half of the cynical, bumbling cop duo in Hot Fuzz, and he also had a brief appearance as the investigative reporter in The Bourne Ultimatum.
Actor Peter Mullan takes center stage in what is sure to be the performance piece of his career. Buzz surrounding his work in this film is astounding; palpable even. I instantly recognized the actor from a small, bit role he played in Children of Men (Syd, the "fascist pig"). Looking at his resume, it turns out he's been in numerous films in a wide variety of supporting roles. Tyrannosaur is going to put Peter Mullan on the map for a lot of people. I dare you to watch this trailer and not be amazed! Also take into account the World Cinema Sundance accolades.
Red State (U.S., directed by Kevin Smith)
Kevin Smith is a difficult director for me to approach. I can't claim to be a fan of any of his films, aside from Chasing Amy. If we're talking about Kevin Smith the writer, then he's awesome. Kevin Smith the public speaker/commentator on Hollywood, very awesome. Kevin Smith the director…not so awesome. Please don't take that as a knock against the man (sorry, Kevin Smith!), but for the most part his films just aren't my cup of tea. I find his work to be inconsistent, and almost always juvenile to the point of being distasteful.
However, listening to the man speak on podcasts or in live venues, I can't think of a more charismatic and entertaining personality in Hollywood. He's direct, he's brutally honest, and he's damn funny. Unfortunately, he's also insecure about his own abilities as a director.
Enter Red State, a film that is most likely Smith's directorial swan song. Smith has poured his heart and soul into making this film. He's been on the road with it touring movie theaters in the U.S., charging $50 per ticket for people to watch the film, then sit in a two hour plus Q&A session with the director himself. If that's not the mark of a director who is confident in the film that he vows is his last, I don't know what is. What I do know is, he's piqued my interest, and I'm happy to see it at this year's Busan International Film Festival. The only thing missing is, of course, Kevin Smith himself.
Rounding out the rest of the films that I'll be attending this year include:
The Enemy (Bosnia, directed by Dejan Zecevic)
Guilty of Romance (Japan, directed by Sono Sion)

Cut (Japan/France, directed by Amir Naderi)
Tokyo Playboy Club (Japan, directed by Yosuke Okuda)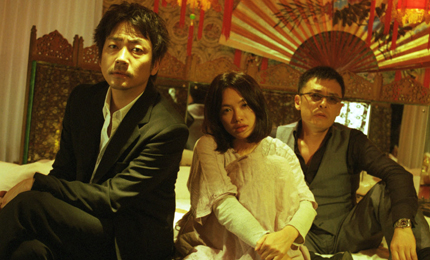 (Sorry, no trailer for this one)

The Odds (Canada, directed by Simon Davidson)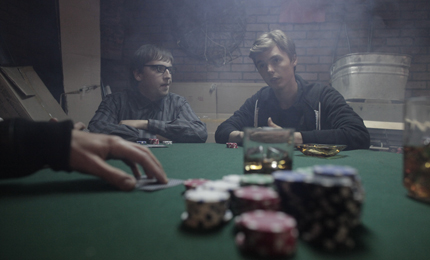 (No trailer for this one, either)
Many thanks go out to Jacob Worrel for inspiring me to scrutinize my film selections a bit more closely this year. The Busan International Film Festival is just around the corner, and with tickets having sold out in a matter of minutes for many screenings, (though the fest sets aside many for walk-up sales) it's shaping up to be one of the most exciting year's in the festival's history.
With a refocusing of the BIFF venues, a brand new BIFF film complex in which to welcome the stars on the red carpet, so many amazing films to see, and Busan Haps providing you with comprehensive coverage, to quote Jacob Worrel "You'll never be hungry again!"
---
Comments
comments