---
JINDO, South Korea — The captain of the ship at the center of the ongoing search for 287 missing people apologized today to grieving family members.
The captain, Lee Joon-seok, was an eight-year veteran of the ship, though the main captain who had 20 years experience was off on vacation.
'I'm sorry. I'm at a loss for words,' he said as he bowed, refusing to take questions while wearing a hoodie which covered his face.
The captain has been questioned for negligence in the incident, while also allegedly abandoning the ship during the accident. Social media in South Korea has drawn a lot of attention to the captain, whose photo of him leaving the ship has gone viral.
Nine people have now been confirmed dead, with 287 still unaccounted for as the search continues into the second day.
---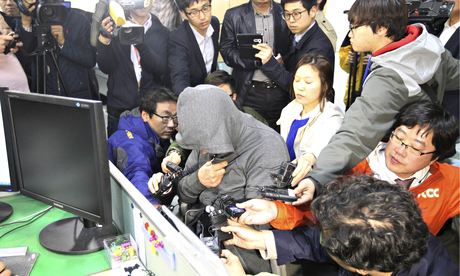 ---
Comments
comments