---
BUSAN, South Korea — Lynne Ramsay's 'We Need to Talk About Kevin' could serve as the sinister yin to the celebratory yang of 'The Tree of Life'. While the latter film is an ode to the miracle that is life itself, the former is a nightmarish look at the creation of something that could be seen as less than human. This is a devastating punch to the gut, a wildly unnerving slice of filmmaking that easily ranks among the very best that this year's BIFF has to offer. Performances from Tilda Swinton and the young Ezra Miller are so effective they immediately proceed to work their way into your system, never giving you a moment to breath.
Lynne Ramsay conducts dramatic tension in ways I never knew were possible, revving up a chronological back swing before hitting us with the full force of the present-day horror show. No time is wasted in plugging us into the emotionally ravaged Eva, played to perfection by Swinton. Eva is at a seemingly hopeless stage in her life; left in the wake of an unthinkable act performed by her son Kevin, she is forced to reflect on events one piece at a time. Eighteen-year-old actor Ezra Miller gives Kevin a chilling external layer, there is a brutally cold and calculating menace to this kid, and it's apparent from the onset of his years as a toddler.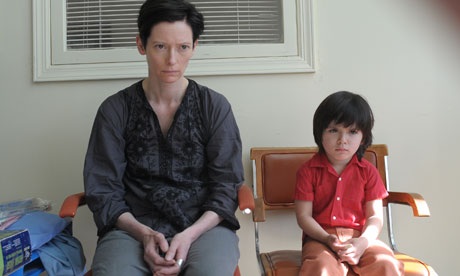 Kevin owns and manipulates his parents in every way imaginable, and the film is ambiguous in examining the faults of Eva and her overtly naive husband Franklin, played by John C. Reilly. Is Kevin the way he is as a result of parental shortcomings, or is he simply evil incarnate? There's no clear answer to this question, but what is clear is Eva's averse disposition throughout her pregnancy. "Stop resisting", Eva is told as she screams at the top of her lungs during childbirth. Could it be that Kevin is a product of the conflicted, and almost negative, feelings Eva is having over her impending motherhood? Again, it's difficult to say.
It is in the ever-present sense of foreboding, articulated by the brilliant editing, that Lynne Ramsay's film manages to be more than any conventional "cautionary tale" I've ever seen. Ramsay knows how to push her characters along a tautly drawn rope; bridging the gap between the few early moments of happiness, and the foreseeable tragedy is rarely done with such artistic prowess. Ramsay's chosen color palette favors all shades of red, which may seem a bit obvious to some, but it works to staggering effect.
I've also never seen a film which effortlessly disassociates the viewer from food and the act of consumption; it literally makes one want to abstain from eating for the rest of the day. It's a brilliantly mastered effect, one that delivers a vile resonance to Kevin's dialogue while he's eating. This is an astonishing aspect of Ramsay's direction.
---
---
Ramsay utilizes music selections which run contradictory to the consistently disturbing tone. Some of Ramsay's choices feel a little too self-aware, but on the whole the impact is never diminished as a result. One may find themselves tapping their toes to a cheery little ditty, only to be ripped away abruptly by the harsh reality unfolding onscreen.
There's no doubt that 'We Need to Talk About Kevin' is a must-see film, one of the year's very best. After a nine year hiatus, Scotland native Lynne Ramsay returns to the directors chair with a masterful addition to her filmography. Hopefully we don't have to wait nine more years for a film of this caliber from the director. If you think you can bear the full brunt of this relentless assault on the nerves, then do whatever you have to in order to see this outstanding piece of work.
---
Comments
comments