---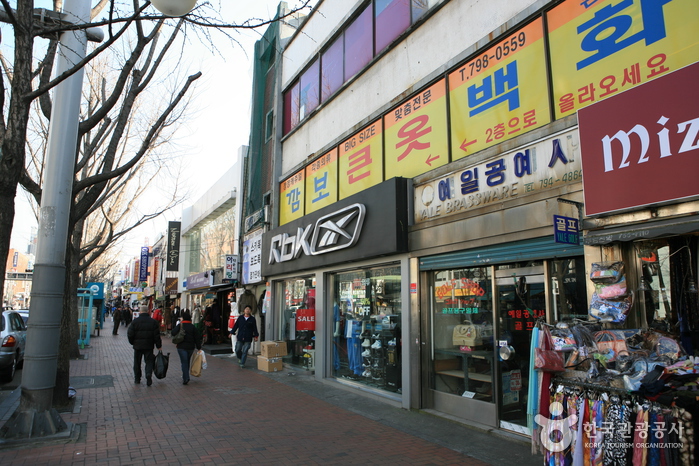 ITAEWON, SEOUL – In stark contrast to the often classy, artsy and yet, sometimes overrated club scene of the Hongdae area, there's one part of central Seoul that might make some feel uncomfortable: Itaewon. It's kinda like putting on a knit sweater with nothing underneath in the dead of winter. Upon arrival it's hard not to pick-up on the seediness in this hard-rock party downtown area, but just like a hard-rock concert, what's good for the rock stars is great for the fans.
Here's a look in quickfire fashion:
If you are ready to get right into the scene and pick up a quick bite to eat without sitting down, there are plenty of Turkish vendors selling wraps for cheap, which are good before the raw night
out and even better when you have the drunk-munchies. Sultan Kebab and Mr. Kebab would arguably be among the best offered, although each place seems to offer its own style and slight variance on flavor.
For finer dinning earlier in the evening with a date, there is a bevy of options, from a few standard Indian, Pakistani and Arabic restaurants that are mostly self-titled or unnamed, to good burger and American dinner joints such as Richard Copycat's American Diner, Hollywood's and even the franchise, Kraze Burger. More standard chains include Subway and Outback. Mexican food doesn't have to set you back too far, and you won't be disappointed with Los Amigos, Taco Amigo, and Taco Taco.
An excellent Cz
ech place to Czech-out is Castle Praha, offering authentic Czech beer and cuisine, like its counterpart by the same name in Hongdae, although pricey. For Indian food, Ashoka and Chakraa are a bit steep as well, but pretty much as good as it gets in this genre of food. A Pakistani place worth mentioning is Foreign Restaurant, which is pretty much an excellent Indian restaurant with a buffet for lunch on weekends; Tajmahal as well.
The Foreign Food Market is nearby, and is probably the best grocery store in all of Korea in terms of a selection of food found all over Asia and the West. There are plenty of independent, inter
national convenience stores as well. And if you are headed for a cafe to chill, What The Book bookstore is practically right next door.
Ali Baba, Pharaoh's and Dubai Restaurant offer some of the best Arabic food in Itaewon as well. If Italian is your thing, check out La Cucina, La Tavola or Sortino's. Some French restaurants are worth mentioning as well, namely La Cigale Montmartre, Le Saint Ex and Paris Grill. Thai Orchid and Thai Garden offer the best and most expensive Thai food in Korea, but are worth just checking out, even if just once. Wang Thai Restaurant, Silom and Buddha's Belly are awesome as well.
Later in the night when you start drinking, you will not be disappointed. One thing that many bars in Itaewon have in common is classic all-wooden interiors which never look dull to the eyes. And unlike Hongdae, you won't be lost in a crowd of Korean university students–Itaewon has a cross-section of everyone.
Many bars are virtually 100% expat clientèle, and even cater specifically to the military, such as Scrooge Pu
b, Geckos, and Sam Ryan's, to name just a few. Just watch what you say after you are a few sheets to the wind and odds are no one will mess with you; not talking politics or staring at anyone's girlfriend or boyfriend too long is a great start. The food at most of these places is excellent, as well, and there's darts and pool, when you're not too distracted by ESPN. Scrooge Pub almost feels like Applebee's, if Applebee's was ever a fun place to meet up with the crew back home. Gecko's (which just opened a new spot in Haeundae) has a great view over the town and a lot of floor to walk over and meet new people, as well as friendly wait staff.
There are a few questionable clubs that cater to America's Army, namely UN Club, King Bar, and Grand Ole Oprey. UN Club can be a tad on the hip hop side and loud even for a club, but Grand Ole Oprey on Hooker Hill can make you feel like you're in Texas, or at least a very western themed restaurant in Las Vegas. A recent podcast by the Midnight Runner mentioned the fact that draft beer is about $2 there, so expect long lines to the bathroom with the garrison.
The classiest joint in Itaewon would have to be b-one, a basement lounge and club with some of the most b
eautiful people in Seoul spending the night out. Great DJ most nights. Better make sure your Korean is up to par, or the Korean girls might drive you away like John Daly. There is also the original Bricx, which is much smaller than its clone in Hongdae, but a lot more cozy and intimate. If you don't mind dropping ten bucks on admission, swing
by Helios for a barrage of English teachers, Army personnel, Koreans, and foreign college students grinding it out on the floor until sunrise, with a trashy-drab feel like the Sunset Strip in LA. You'll get a nice stamp on your hand that almost looks like a tribal glyph the vampires had tattooed on their arms in the Blade films.
For more casual get-togethers and solo outings, hit up The Rocky Mountain Tavern on a Tuesday night for some of the best wings on sale in all of Seoul, but be prepared to wait for them. You'll be surrounded by Canadians, so if you're American, just end every sentence with 'eh' and you'll blend in fine. Nothing but hockey on TV, and often some live standup comedy on the second floor as well. Try the Salt and Pepper Wings.
The Strip in Itaewon by night
Woodstock is perhaps the filthiest bar you will ever set foot into, and you'll even be reluctant to sit down anywhere. Usually live acts to follow, and a worn-down, mature expat crowd that can tell you all about the real Woodstock back in the summer of '69. Almost never a line for pool here. Black walls and UV lighting make things hard to see inside.
One place to meet Russians in Korea would have to be Spy Bar, so aptly named with visions of KGB interrogations dancing in my head. While many weekends it might be empty, plenty of others it can be full of more than a few Russian models, as well as some scary expats from Eastern Europe that might have survived some dirty war. Worth a shot, especially with all the strawberries, apples and tomatoes they give away in bowls on the bar…believe me, after a few drinks, it's yummy.
One classic insider joint near a soon to be built Taco Bell is a little dive called The Metro, with a ginormous television going and music from every genre and decade, with matching music videos. The bartenders are awesome, the crowd is small, and you see the same twenty or thirty people every Friday and Saturday night. Great place for pool when the line isn't long. Justin Bar and Oasis Bar might be a little similar, and the crowd is mostly Korean.
One of the most enjoyable pubs to check out is The Wolfhound Irish Pub, which has the best fish and chips this side of the Pacific. It tends to get 'GI-ish' on Friday and Saturday nights, like Sam Ryan's and Geckos, but the food earlier in the evening makes it worth it. Tuesday night is Fish n' Chips night. On the other side of the street, behind the Hamilton Hotel and near Sam Ryan's is another similar class act known as Baby Guinness, although a tad on the pricey side.
Two classics in Itaewon not to be outdone by anyone are Nashville Pub and Seoul Pub. Seoul Pub tends to be a bit dim, but otherwise fun with a very classic interior, if nothing else. Nashville Pub is run by a mostly Filipina wait staff and has two dart boards and two pool tables. Usually a very laid-back atmosphere that's fun to stop by every weekend and never grows dull. There's also a smaller bar that fills up fast known as Dillinger just down the street from there that can be fun if you go with a crowd.
Up above Nashville Pub is La Catalina, the place to be in all of Seoul for salsa dancing and Latino music. If you can't have fun here, check your pulse. Admission is six bucks, but that also includes your first beer, so roll with it. It's a great last stop for the night, even if you're alone. It doesn't get good before midnight, so no rush.
For all you pool wizards and dart heads out there, the best two joints to venture into would have to be Bless U Bar and Dolce Vita. There's no point in even writing your name on the board if you're not amazing at pool at Bless U Bar, and usually Dolce Vita as well. Dolce Vita has 3 or 4 dart boards, so if you're looking to start or get into a league, this is the place to be. It's quite a trip when you first enter and see all these darts whiz by over your left shoulder; it almost feels like a bunch of archers practicing in front of a king from the middle ages. Bless U Bar has excellent popcorn, by the way.
Itaewon may be full of quirks and eccentricities, but it's still the best place in Seoul to get the kinks out of the system after another long week of cultural differences and you just want something that feels a bit like home. It's hard to miss seeing the strange and the seedy, but that makes it all the better, just like a slice of New York City in the center of Seoul. On the bright side, you will not find a better selection of restaurants anywhere in Korea, not to mention so many Koreans who speak English and want to talk to you. Loosen up and give it a shot.
It should be pointed out that virtually every business named above is either on the main street or just off it and none of these places should be hard to find, especially with foreigners crawling over the place.
For a more detailed explanation of many of the restaurants listed below, check out these comprehensive lists from Seoul Style and Galbi Jim.
Itaewon is on the Subway Line 6. For a good map go here.
Comments
comments