Life changing, award winning movie Chasing Ice finally finds a Korean premiere right here in Busan this weekend.
This Saturday the multi award-winning movie Chasing Ice (2012) finally has its first public screening in Korea.
Already widely influential overseas, the long awaited arrival of the dramatic images within the documentary provides proof positive of the rapidly spiralling impact of manmade climate change, and has people marking calendars in preparation to attend one of three screenings around the city.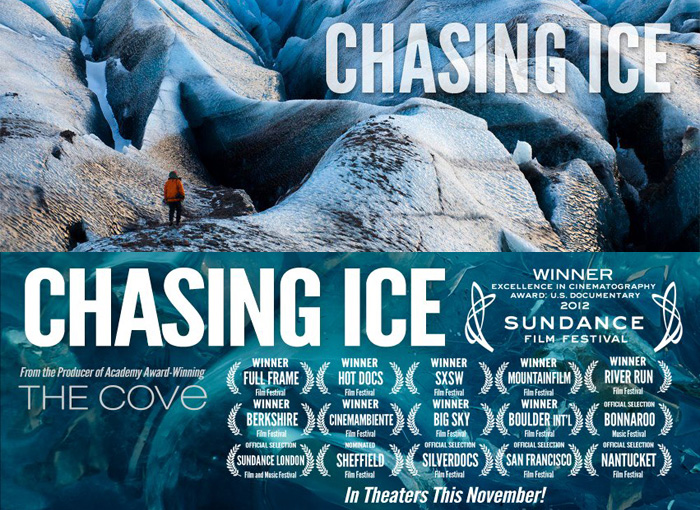 The film follows nature photographer James Balog, originally a climate change skeptic, as he uses custom made state-of-the-art camera technology to photograph glaciers as they melt shockingly quickly. The movie documents his challenges, his process, and the evolution of his understanding of how severely our planet's climate is now unravelling, just as the glaciers themselves rapidly dissolve.
Perhaps the greatest evidence of the film's power to change lives is in a near teary-eyed Bill O'Reilly fan who approached a video reviewer after a screening of the movie in the USA, as she seeks the chance to apologize for her previously skeptical ways before a wider audience than her friends and family.
The movie plays three accessible locations around Busan. Starting Saturday 15th at 7pm in Busan National University front gate area, the film moves to Nampo Dong on Wednesday 19th at 7pm, and ends with a final viewing in the KSU area on Saturday 22nd at 3pm.
As the second of three films, Chasing Ice is the centerpiece of the film festival hosted by Busan Climate Action over November and early December.
The third and final movie starts on Saturday 29th November, and is the new release Cowspiracy (2014).
All films are in English with Korean subtitles.
---
See BCAFilmFest.com for more details about film festival screenings, or contact Sunny Yun (한국어) at: yskSunny@gmail.com or phone 010-2293-2329.
Learn more about the film: chasingice.com
View more photos by James Balog at jamesbalog.com
and more about his work in the Extreme Ice Survey at extremeicesurvey.org
Comments
comments