---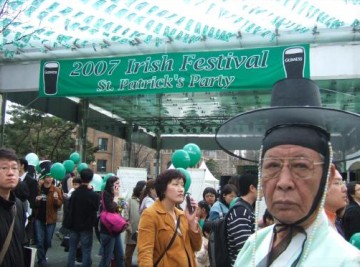 BUSAN, South Korea — March 17th is just around the corner, which means it's once again time for the annual drunkfest that the annual commemoration of Patron Saint Patrick has become. Busan has its fair share of parties, and we've got you covered on where to go to celebrate this year.
As the party falls on a Sunday this year, some of the bars and clubs are celebrating a day or two early so make sure of the date so you don't get disappointed if you show up and you've missed all the fun.
Check back as more updates come during the week.
---
The Basement (PNU) 3/16 - Now in its 18th year, and the longest running St. Paddy's Day party in Korea. Opens this year at The Thirsty Moose at 3:00 p.m. and then continues at the Basement at 9:00.
At 8:50, join the Green Parade from the Moose to the Basement —the first St. Patrick's Day parade in Busan!
Music @ Basement: 9:30 Poxy Music, 10:30 Jake and the Slut, 12:00 Noname
---
Wolfhound (Haeundae) 3/16 and 3/17 – Expect big crowds, lots of alcohol, a dressed up pub, green beer, jello shooters and Irish tunes all day and all night.
St. Patrick's Day Pre-Party – Saturday March 16 open at 11 a.m.
St. Patrick's Day Party – Sunday March 17 from 11 a.m.
---
Tap and Tapas (Haeundae) 3/15 – 3/17 – Green Green Night! has a variety of St. Paddy's Day specials for you to enjoy.
Nightly Specials
Green draft beer ?2,500
Guinness draft 20% off
Irish CarBomb 1+1
Guinness Draft Half Pint > Pint size upgrade
Irish customers: Guinness Draft Pint 1 free
Set Menu
Paella or Salmon steak + 2 Guinness draft = ?28,500
Tapas 2 + 3 Guinness draft = ?36,500
---
The Back Room (Haeundae) 3/15 – 3/17 – Enjoy St. Paddy's Day at the coolest lounge in Haeundae with a welcome Irish Car Bomb on the house, 20% off Guinness Bottled Beer and a TBR perfect serve for free when you order a single malt whisky.
---
Soul Trane and Crossroads (PNU) 3/16 – Music by Charlie & Adam, Drop Dead Valentines, Four Letter Words from Changwon.
Drinks Promos (all night)
Jameson Shots 3 for 10000 won
Guinness 6000 won
Rum / Cokes 3000 won
---
Thursday Party (All Locations) 3/15 and 3/16
Drinks Promos (all night)
Midori Tequila Shot: 3,900 won
AQWA Shot: 4,900->3,900 won
Draft Cass or Red Rock, and well drinks(rum,gin,or vodka) with mixers
Price: 15,000 won
Drink Specials:
Agwa Bombs – 6,000 won
Guinness – 7,000 won
Car Bomb – 6,000 won
---
Sharky's (Gwangan) 3/17 – St. Paddy's Day Time Live Music Celebration with live music starting around 2:00 pm. Music by D n D Band (Drunk and Disorderly) from Seoul.
---
Ol'55 (KSU) 3/16 – For the the third year running, THE RICE PADDYS, Busan's only group dedicated to Irish tunes and other assorted Celtic melodies, will be jamming jigs at Ol' 55.
---
Eva's (KSU) 3/16 - Head to Eva's and get your green on.
---
Your spot or one you know of not on the list? Send it in! chevhaps@gmail.com
---
---
Comments
comments